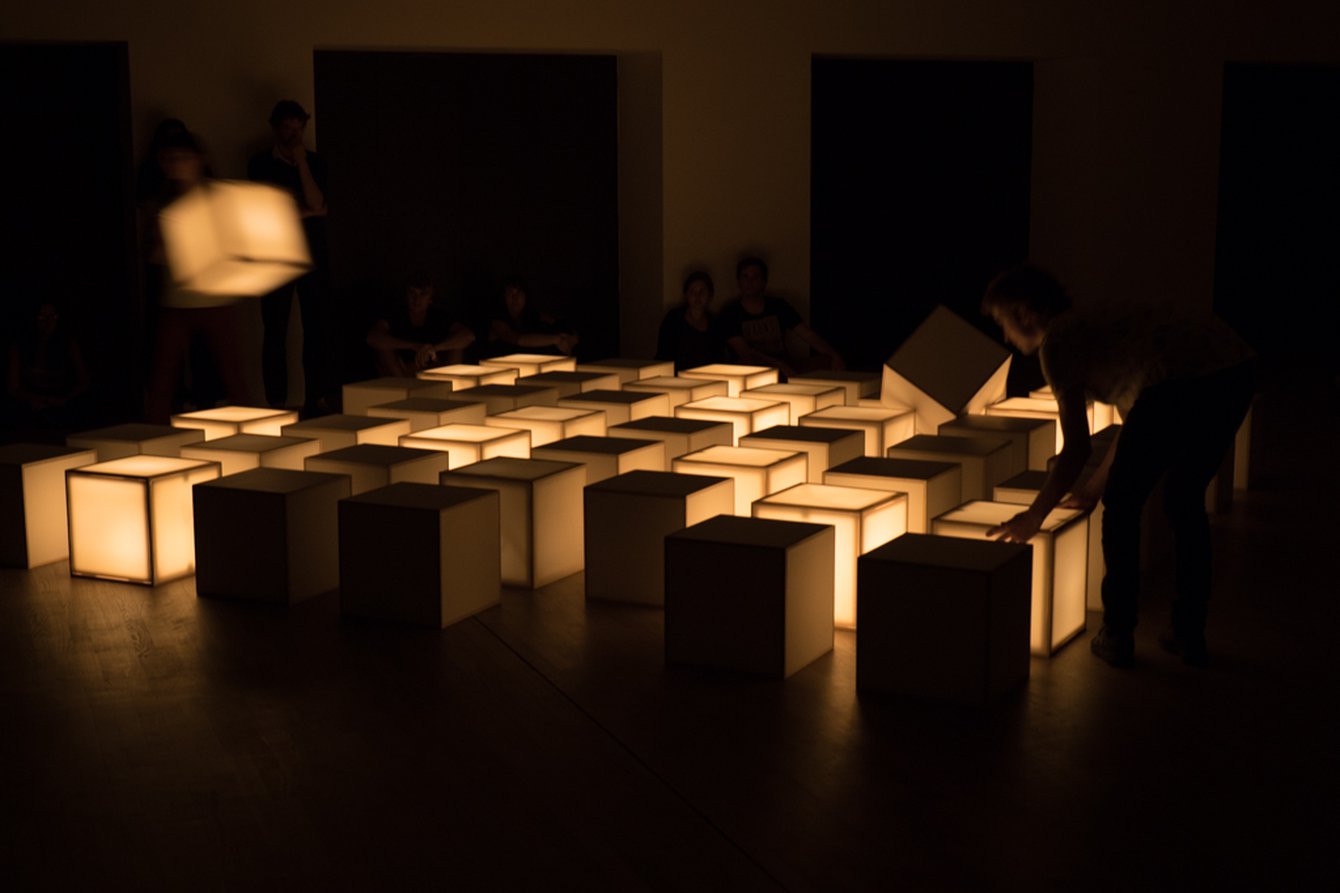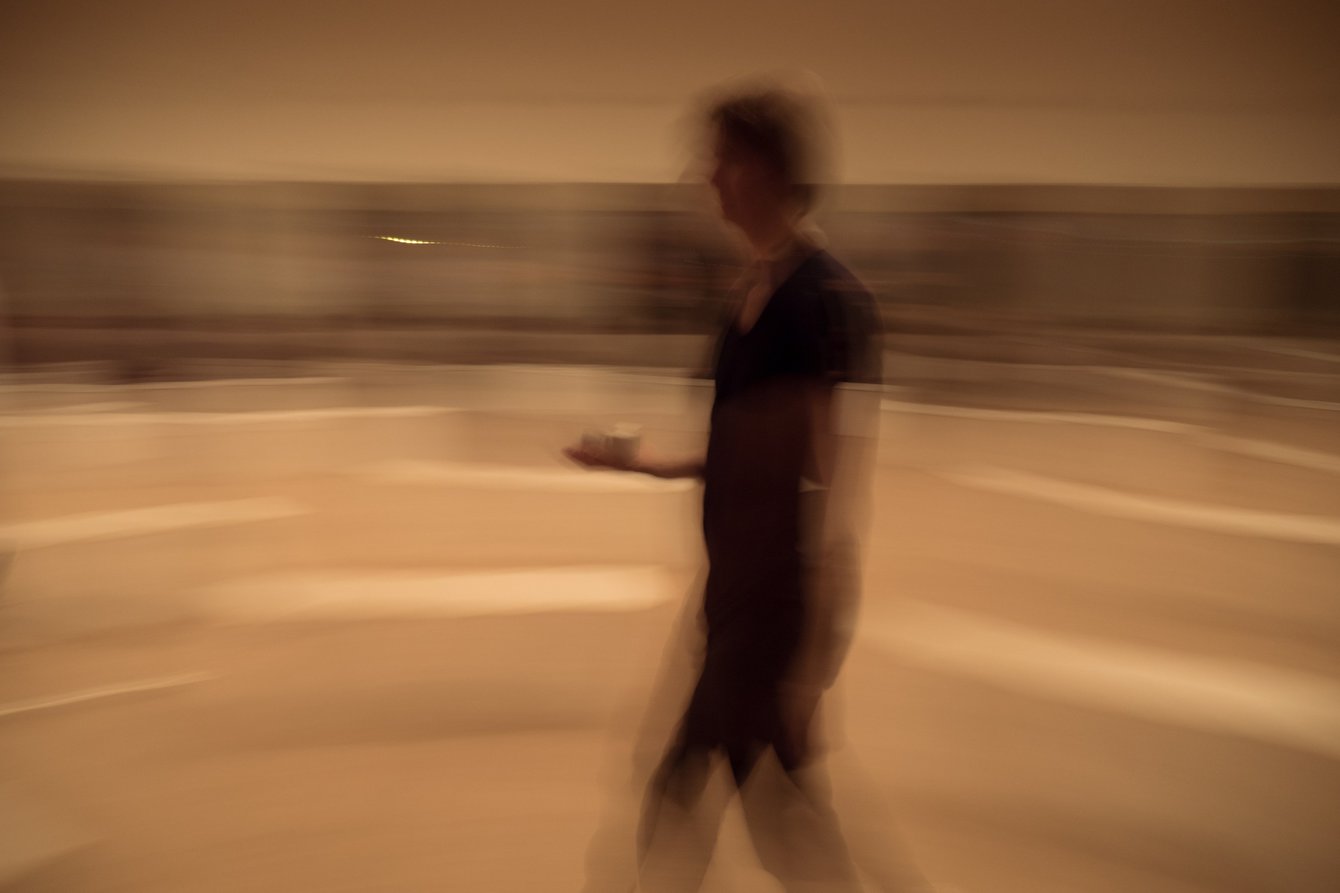 Different people will understand the same thing in a different way.
(Sol LeWitt, Artforum, June 1967)  

Regular guests at PACT, Heine Avdal and Yukiko Shinozaki, alias fieldworks, are acclaimed for their poetic and humorous interventions in unusual, semi-public settings. With ›distant voices‹, they return to the realm of the stage to continue their exploration of space, particularly investigating the effects of spatial organization on the body and its perception. What happens if an architectural space exceeds its own borders from within? What if a situation breaks out of its spatial limits? Oscillating between visible and invisible zones, memory, anticipation and actual perception, between installation, performance and party, fieldworks invites us to accompany them on a journey which playfully counters our apparent notions of inter-personal and spatial actualities with other realities.
Concept, direction: Heine Avdal, Yukiko Shinozaki
Visual design: Arnaud Meuleman
Dramaturge: André Eiermann
Created & performed by: Andrey Andrianov, Heine Avdal, André Eiermann, Ingrid Haakstad, Arnaud Meuleman, Kayoko Minami, Eivind Seljeseth, Yukiko Shinozaki
Sound design: Roeland Luyten
Sound technician: Mathieu Virot
Technical support: Protocol Room
Production: fieldworks vzw, Heine Avdal
Co-production: STUK Kunstencentrum (Leuven), APAP Network: BIT Teatergarasjen (Bergen), Kunstencentrum BUDA (Kortrijk), PACT Zollverein (Essen), Kana Theatrical Centre (Szczecin), CO2 festival (Beirut)
Collaboration: Kaaitheater (Brussels)
Support: Norsk Kulturråd, the Flemish Authorities and the Flemish Community Commission
www.field-works.be
Touring
21.11.2019, iMAL, Brüssel (BE)
23. + 24.08.2019, Rosendal Teater, Trondheim (NO)
25. + 26.08.2017, Rimi/Imir Scenekunst, Stavanger (NO)
07.05.2016, Kristiansand Kunsthall, Kristiansand (NO)
10. - 12.10.2015, Spiral Hall, Tokyo (JP)
12. + 13.09.2015, Black Box Teater, Oslo (NO)
08. + 09.09.2015, International Festival on Contemporary Theatre Homo Novus, Riga (LV)
04. + 05.09.2015, Teaterhuset Avantgarden, Trondheim (NO)
26. + 27.08.2015, MDT, Stockholm (SE)
20. - 22.08.2015, FAR Festival des Arts Vivants, Nyon (CH)
29.05.2015, Stamsund International Theatre Festival, Stamsund (NO)
25. + 26.04.2015, Transitos Habana, Havana (CU)
20.04.2015, Teatr Lalek Pleciuga, Szczecin (PL)
22.05.2015, Kalitheater, Brüssel (BE)
30. + 31.01.2015, PACT Zollverein, Essen (DE)
28.11.2014, Buda Kunstencentrum, Kortrijk (BE)
24. + 25.10.2014, BIT Teatergarasjen, Bergen (BE)
08. + 09.10.2014, STUK, Löwen (BE)
28.09.2014, CO2 Festival, Beirut (LB)
03. - 05.07.2014, Trafo, Szczecin (PL)
21.02.2014, PACT Zollverein, Essen (DE)