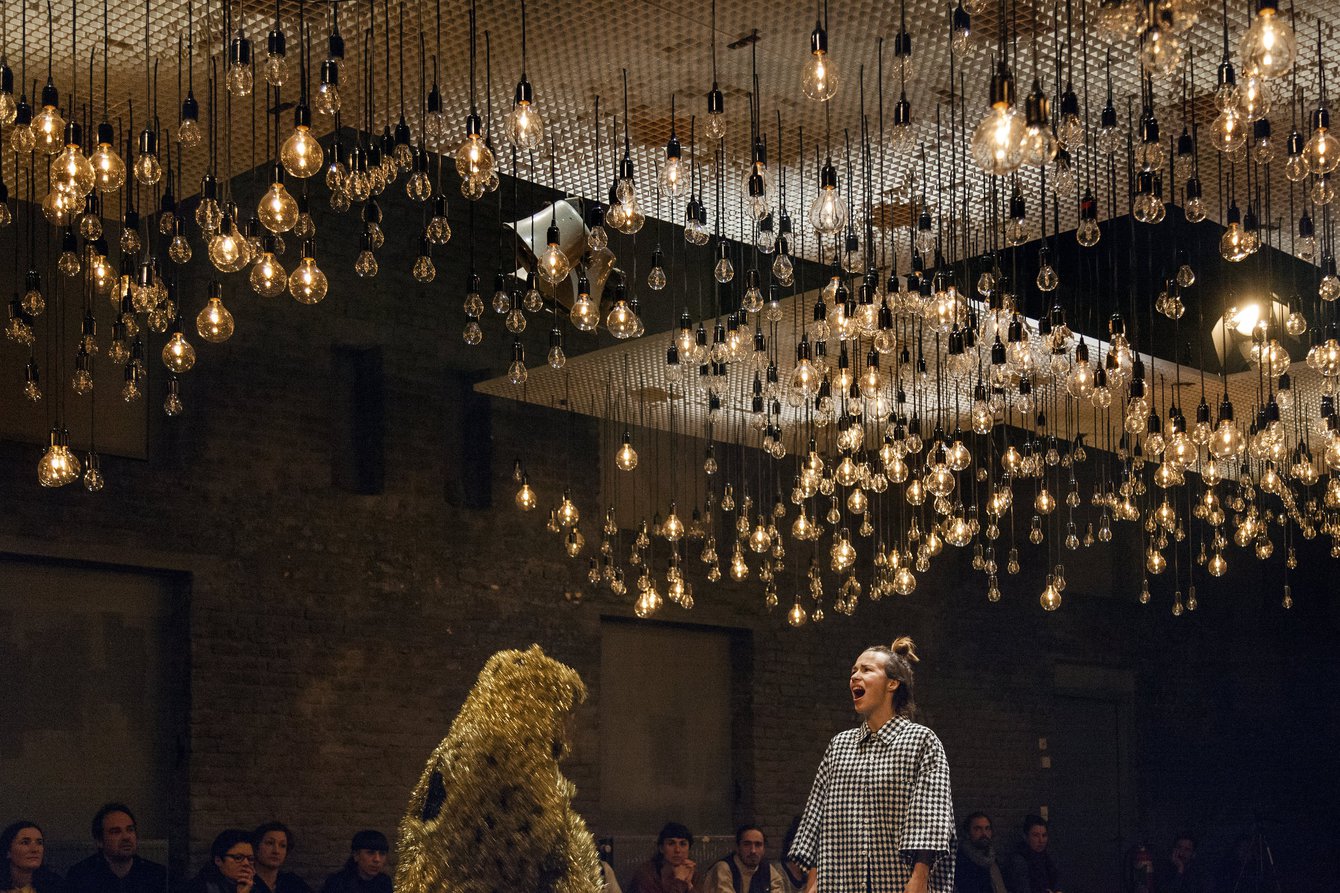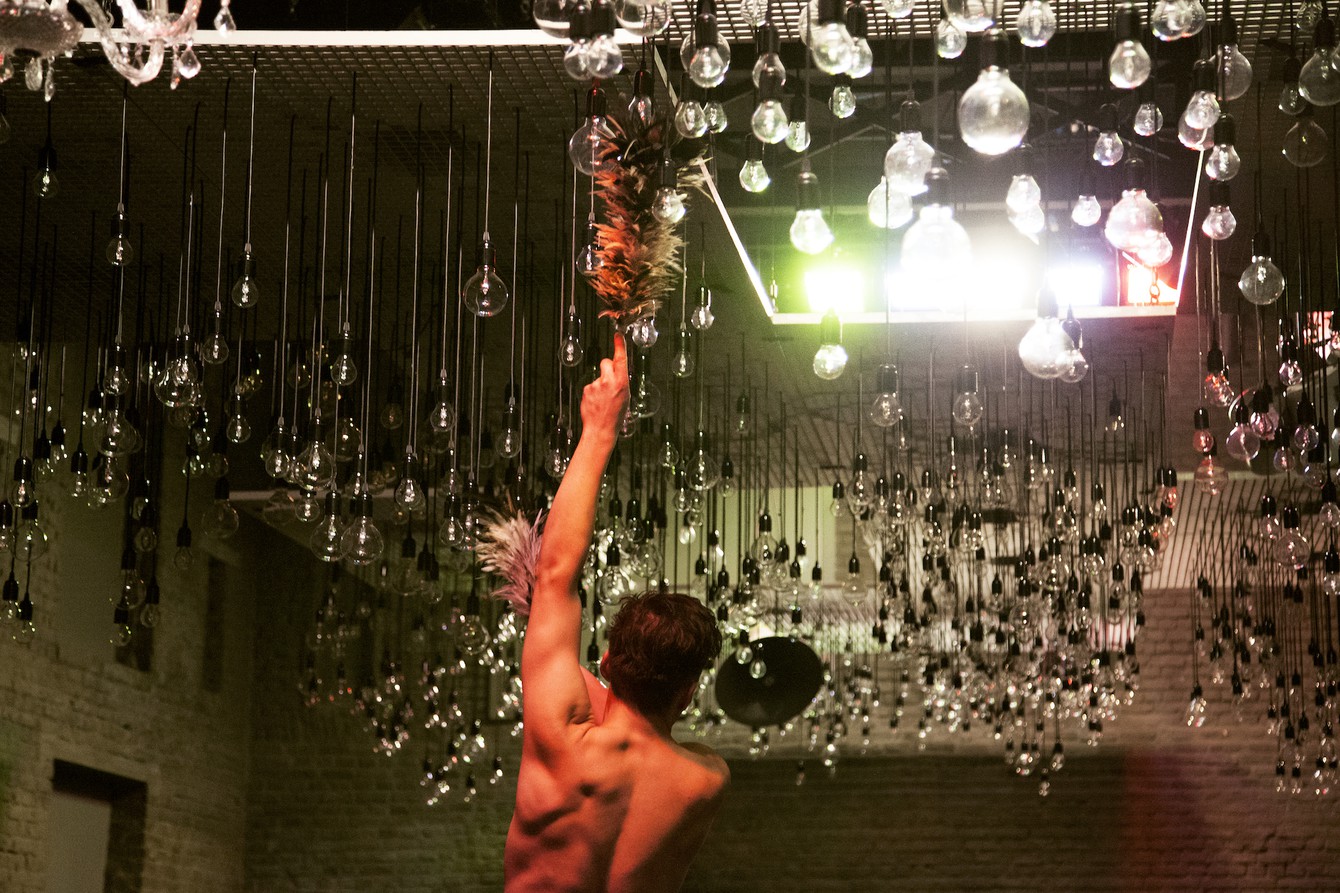 For ›Celestial Sorrow‹, Meg Stuart, recently awarded The Golden Lion for Lifetime Achievement by the Biennale di Venezia, collaborates for the first time with Indonesian visual artist Jompet Kuswidananto who grew up under the repressive dictatorship of president Suharto. Departing from possession and implanted fictional traumas, they create a vibrant world of light and movement, objects and sound, inhabited by three performers and two musicians. Together the group embarks on an exploratory journey, moving through imaginary and invisible spaces, and the voices that make them resonate.
Choreography: Meg Stuart Installation: Jompet Kuswidananto Created with and performed by: Jule Flierl, Gaëtan Rusquet, Claire Vivianne Sobottke Live music: Mieko Suzuki, Ikbal Simamora Lubys Light design: Jan Maertens Costume design: Jean-Paul Lespagnard Dramaturgy: Jeroen Versteele Technical direction: Jitske Vandenbussche Production management: Nara Virgens, Delphine Vincent Assistant costume design: Coline Firket, Isabelle Lhoas Production: Damaged Goods (Brussels) Co-production: EUROPALIA INDONESIA, Goethe-Institut Indonesien, HAU Hebbel am Ufer (Berlin), Kaaitheater (Brussels), Künstlerhaus Mousonturm (Frankfurt am Main), PACT Zollverein (Essen), Tanzquartier Wien (Vienna) Thanks to: Franziska Dieterich, Ingrid Müller-Farny, Muhammad Nur Qomaruddin, Isabelle Pauwelyn, Arco Renz, Margaux Schwarz, Ictus (Brussels)
Meg Stuart & Damaged Goods are supported by the Government of Flanders and the Flemish Community Commission. ›Celestial Sorrow‹ is commissioned by the Walker Art Center with support provided by the Andrew W. Mellon Foundation and the William and Nadine McGuire Commissioning Fund.
Sat, 24.11.18, 13:30 - 16:00 H: PACTPackage #6 - The workshop for students is fully booked.
Touring
05.06.2021, Théâtre Garonne, Toulouse (FR) (cancelled)
04.06.2021, Théâtre Garonne, Toulouse (FR) (cancelled)
03.06.2021, Théâtre Garonne, Toulouse (FR) (cancelled)
02.06.2021, Théâtre Garonne, Toulouse (FR) (cancelled)
27.06.2020, Kaaitheater, Brüssel (BE) (cancelled)
26.06.2020, Kaaitheater, Brüssel (BE) (cancelled)
25.06.2020, Kaaitheater, Brüssel (BE) (cancelled)
24.06.2020, Kaaitheater, Brüssel (BE) (cancelled)
21.03.2020, Théâtre Garonne, Toulouse (FR) (cancelled)
20.03.2020, Théâtre Garonne, Toulouse (FR) (cancelled)
19.03.2020, Théâtre Garonne, Toulouse (FR) (cancelled)
07.02.2020, Theaterhaus Gessnerallee, Zürich (CH)
06.02.2020, Theaterhaus Gessnerallee, Zürich (CH)
14.12.2019, HAU Hebbel am Ufer, Berlin (DE)
13.12.2019, HAU Hebbel am Ufer, Berlin (DE)
12.12.2019, HAU Hebbel am Ufer, Berlin (DE)
11.12.2019, HAU Hebbel am Ufer, Berlin (DE)
30.11.2019, Tanzquartier Wien, Wien (AT)
29.11.2019, Tanzquartier Wien, Wien (AT)
28.11.2019, Tanzquartier Wien, Wien, (AT)
08.09.2019, Salihara Theater, Jakarta (ID)
07.09.2019, Salihara Theater, Jakarta, (ID)
25.05.2019, Kunstencentrum Vooruit, Gent (BE)
24.05.2019, Kunstencentrum Vooruit, Gent (BE)
23.05.2019, Kunstencentrum Vooruit, Gent (BE)
13.04.2019, Walker Art Center, Minneapolis (US)
12.04.2019, Walker Art Center, Minneapolis (US)
11.04.2019, Walker Art Center, Minneapolis (US)
24.11.2018, PACT Zollverein, Essen (DE)
23.11.2018, PACT Zollverein, Essen (DE)
22.11.2018, PACT Zollverein, Essen (DE)
18.11.2018, Mousonturm, Frankfurt (DE)
17.11.2018, Mousonturm, Frankfurt (DE)
16.11.2018, Mousonturm, Frankfurt (DE)
24.01.2018, Kaaitheater, Brüssel (BE)
23.01.2018, Kaaitheater, Brüssel (BE)
22.01.2018, Kaaitheater, Brüssel (BE)
20.01.2018, Kaaitheater, Brüssel (BE)
19.01.2018, Kaaitheater, Brüssel (BE)
18.01.2018, Kaaitheater, Brüssel (BE)