PACTconnected - Let's stay in touch!
Online Programme
For years, experts from all fields of knowledge have been occupied with the complex interconnections and vital dependencies between the human and the non-human. Under the title ›Planetary Alliances‹, IMPACT20 invites you to a polylogue on relationship net- works in which humans are just one actor among many.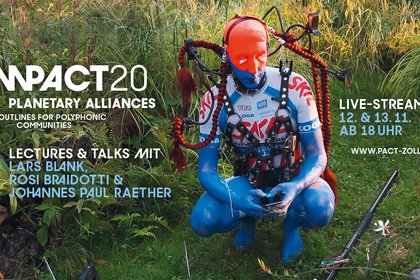 Meg Stuart on the making of ›CASCADE‹
In August, Meg Stuart was on a month long residency at PACT working on her new creation ›CASCADE‹ which would have premiered at the Ruhrtriennale 2020.
36 plays in 36 nights. The idea of ›Complete Works: Table Top Shakespeare: At Home‹ by Forced Entertainment  is as simple as it is ingenious. Six performers bring every play ever written by Shakespeare to life using only a collection of ordinary everyday objects as stand-ins for the characters on the one metre stage of a table top. Broadcasted online directly from the performers' homes to yours. Each Sunday the performers from that week host a Zoom Q&A.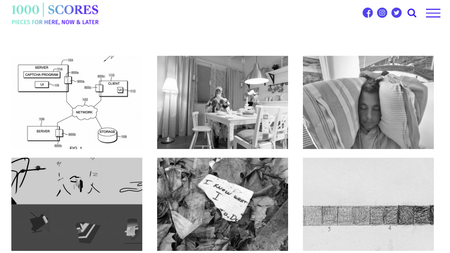 Initiated by David Helbich, Helgard Haug and Cornelius Puschke, the PACT-co-production ›1000 Scores‹ offers an online-collection of instructional performance works by international artists. The scores invite viewers to become protagonists and perform the instructions themselves – new pieces will be added each week! With Johannes Paul Raether, RYBN.ORG, Annie Dorsen, Tabita Rezaire and Trajal Harrell.
In ›À mon bel amour‹, which would have been presented at PACT in March, the French-Vietnamese choreographer brings different urban dance styles including Voguing, Waacking, Popping, Locking and Krump into mesmerising interaction with classical and contemporary dance. For #pactconnected, Anne Nguyen has now compiled a glossary of urban dance styles and shared three video sequences of her work.
This video is an attempt to bring to the surface the emotional core of ›Arcana Swan‹ and the thread that traverses it. ›Arcana Swan‹ is a work about the state of humanity today and an allegory of humanity.
In her lecture ›Breathing in Blackness: Temporal Dimensions of Utopia‹ in the framework of IMPACT19, La Fleur investigated the notion of utopia within Afrofuturism in an attempt to examine how Black bodies can access, build and evolve their safe spaces.
Michiel Vandevelde: ›Ends of Worlds‹ – Video work
In his work ›Ends of Worlds‹, which Vandevelde would have shown at PACT in May, the choreographer looks into a distant and yet uncomfortably near future. For #PACTconnected, he has now made a video in which he revisits the epilogue of the performance. ›Ends of Worlds‹ takes place in the year 2300. The date marks year zero for reproduced homo sapiens informed by the algorithmic memories and patterns of the past. 
THE ART OF MOVEMENT is a sensual and insightful portrait of three dancers from Budapest: Irén, Éva and Ágnes, aged between 90 and 100 years old, were each once part of the early modern dance movement in Hungary. To survive the momentous socio-political changes of the last century, they transformed their lives and movement practices. The filmmakers Boglárka Börcsök and Andreas Bolm held a Live ZOOM Q&A talk with curators Katalin Erdődi and Léna Szirmay-Kalos. 
Saša Asentić - a recent resident at PACT - is one of the most prominent activists for inclusion in dance. As part of the project ›Europe Beyond Access‹, the artist and founder of the NGO Per.Art (Novi Sad) publishes a new conversation every Friday with artists and colleagues from the fields of contemporary dance, performance and disability arts. 
›Muyte Maker‹, the performance that choreographer Flora Détraz would have presented at PACT during our Spring Festival, is a sensual, humorous and energetic experience, a homage to the power of transformation and joy. In her video, Flora offers us a closer, more intimate insight into her work: She shares her influences and sketches, designs for both the choreography and singing, as well as models in art history that inspired her production's fulminant setting.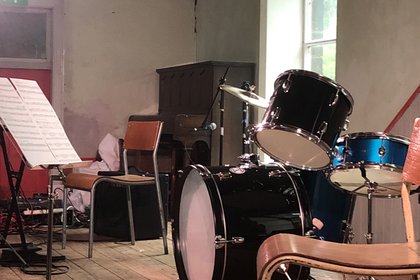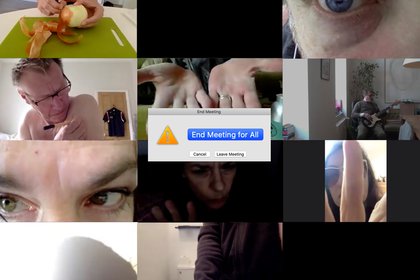 Amidst the omnipresence of ongoing lockdowns and social distancing, the Sheffield based company Forced Entertainment turns to the web tool Zoom to present their new PACT co-production ›End Meeting For All‹ in which they explore the trials and tribulations of a new everyday digital reality. All episodes available until June 30 2020. 
›Chasing a Ghost‹, the latest work by artist and choreographer Alexandra Bachzetsis, questions the choreographic archetype of the duet in a succession of doubles und doublings of bodies, sounds, spaces and images staged in a spectrum of violence and desire. The performance was due to celebrate its German premiere on the 03.04. at PACT. In the meantime, Alexandra has put together a short film featuring footage from the world premiere of ›Chasing a Ghost‹ at the Art Institute of Chicago.